William Crandall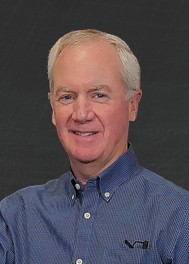 William (Bill) Crandall was born in Grand Rapids, Michigan, and his family moved to Missoula, Montana, when he was a child. Bill graduated from Missoula Loyola High School in 1973 and attended the University of Montana, where he received a bachelor's degree in Accounting. After graduating, he took a position with the accounting firm Ernst and Ernst in Anchorage, Alaska. From there, Bill was hired as the controller for Pacific Western Lines, a tugboat company in Seattle, Washington. In 1986 Bill moved back to Missoula to work for Modern Machinery, where he has been for 32 years. Modern Machinery, owned by Dennis Washington, is a 600 employee company that sells, rents, and repairs construction, mining, and forestry equipment and has 11 US branches in Montana, Idaho, Washington, and Oregon as well as three branches in far eastern Russia. Bill's current title is Vice President of Finance & Operations.
Bill's involvement with MSU-Northern goes back 15 years. He has served on the Diesel Program Advisory Board, including serving as the board chair. He has helped coordinate fundraisers for the Diesel Technology program, testified on behalf of Northern at the Montana legislature, travelled with Northern recruiters on recruiting visits, sponsored and participated in the TekNoXpo, and he was instrumental in raising the necessary funds to build the new Diesel Technology Center. With Bill's help, Modern Machinery has hired Northern students as interns, in cooperative learning roles, and the company currently has about 15 Northern alumni working as full-time employees.
Bill is married to Janet Crandall and they have three children: Jayme, married to Brandon; Lindsay, married to Jason; and Lauren. Bill and Janet have three granddaughters: Isla, Ruby, and Sylvie.