Patricia Holman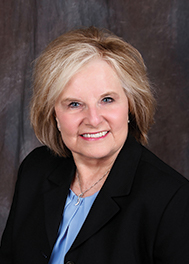 Patricia Holman was raised on a cattle ranch south of Havre, Montana. She graduated from Havre Central High School and enrolled at Northern to pursue an associate's degree as a legal secretary. Through her course of study at Northern she ended up graduating in 1969 with two bachelor's degrees in Business Education and Health and Physical Education. From there, Pat received a master's degree in Education from the University of Utah, a bachelor's degree in Accounting from Boise State University in 1976 and a master's degree in Business Administration from the University of Montana in 1996.
Through this time, Pat was successful in a variety of careers. Her first was as an Associate Professor at Boise State University, where she was also the founder and coach of the Gymnastics team. Pat was a judge at the first NCAA women's gymnastics meet, the Pacific Rim International Gymnastics Meet, and several regional and national age-group gymnastics meets. After her time at Boise State, she and her husband owned and operated a building center in Columbus, Montana for 12 years. They sold the store in 1992 and Pat returned to higher education as a business instructor at MSU-Billings. Pat worked and taught in the College of Business for 19 years, receiving the College of Business Outstanding Faculty Member Award three times, the Faculty Excellence Award, and the Montana Board of Regents Emeritus Award. She became the first non-tenure track adjunct faculty member in the Montana University System to be awarded the emeritus title. After retiring from teaching in 2012, Pat became the CFO of Great Northern Drilling Company, an oil and gas investment company in Billings. She also works as controller for Walker River Construction, a heavy civil engineering company owned by her son and his wife.
Pat's community service includes work with the Billings Food Bank, Habitat for Humanity, Montana Cattlemen's Association, St. Mary's Church, R-CALF's National Scholarship Committee, the Columbus Community Foundation, Special K Ranch board, and the Billings Depot Board.
Pat is married to Tom Hinthorne, also a retired Emeritus Professor at MSU-Billings, and has two adult children: Aaron Holman, married to Gypsy, with son Joe (living in Laurel, Montana); and Krista Holman Frost, married to Stacy, with daughters Madelyn, Elsie, and Eva (living in Vancouver, Washington). Pat's greatest pleasure is spending time with her grandchildren.